Twerkshop, Juicing Challenge and Deep Stretching
OUR NEXT TWERKSHOP IS THIS FRIDAY.
JOIN OUR FIRST CLIENT CHALLENGE IN 2014.

THE ADULT BALLET SERIES BEGINS NEXT WEEK.

THE DEEP STRETCHING SERIES BEGINS THIS SATURDAY.

LOCK IN THE $39 RATE FOR UNLIMITED CLASSES.
---
TWERKSHOP
Friday, 1/17 at 7:30pm
$25 per person
Instructor(s): Donnie & Yasmine
Hillcroft
Learn how to pop lock and drop it then we will teach you a sassy booty shaking routine to (song change) Circles by Lil Ronny.
Bring knee pads.
---
NATIONAL JUIICNG WEEK CHALLENGE

January 17-23 is National Juicing Week and we couldn't think of any better way to celebrate and kick start a healthy challenge than with a social media challenge. We want you to share your favorite juicing recipes!
1. From January 17 – 23, share your favorite juicing combination / recipe
2. Post a photo / video of yourself enjoying that yummy goodness
3. Tag us on social media using @innermestudios and use hashtag #FunFitnessChallenge.
We will choose a winner based on creativity, likes and relevance. The more photos / videos you post the better your chances! Winner gets a $50 gift card courtesy of Snap Kitchen.
There are many benefits to juicing, one of them being it's a great way to get a full days serving of fruits and vegetables in just one glass. There is lots of research that shows the healing properties of juicing. Not only will juicing facilitate weight loss, increased energy levels, strengthened immunity, strong bones and a glowing complexion, it may also reduce chances of heart disease, cancer and strokes, three of the leading causes of death.
---
ADULT BALLET  SERIES

5 WEEK SERIES - $45
Tuesdays starting 1/21, 8:00pm - 9:15pm (617 Richmond Ave)
Get ready to point your toes and experience this lovely technique and style of dance. This class is open to all levels. Please wear ballet shoes or suitable socks.

Ballet will allow you to Shed Fat & Tone Muscles because every inch of your muscles are actively engaged in the movements. Ballet also Improves Your Posture for the basic requirement of ballet is to have a neutral stance with the spine straightened and hips "squared", this posture is going to have a "spill-over" effect on your day-to-day posture. An improved posture can also help reduce pain stemming from muscular-skeletal dysfunction.
---
DEEP STRETCHING / CONTORTION
4 WEEK SERIES - $79.00
Tuesdays starting 1/14, 6:45pm - 8:00pm (617 Richmond Ave)
Saturdays starting 1/18, 10:00am - 11:15am (5901 Hillcroft St)
You can use your 4 classes at either location. If you want to take more than 4 classes during the four week series, each additional class within the series is only $13!
You will be amazed at the benefits of this class and regardless of where your current flexibility level is, you will become more bendy. If your goal is to become more flexible for fitness, balance, or pole dancing, you will love this class! Stretching and good flexibility help to improve coordination, ease back pain (especially in the lower back), enhance blood flow to your muscles (resulting in more energy and less muscle fatigue), and help to provide you with a better quality of life. If done properly, stretching even helps relax both your mind and body. The class will primarily target your back, legs, hip and shoulders.
---
Make a real commitment to your health in 2014 and SAVE! Hurry, sale ends 1/31.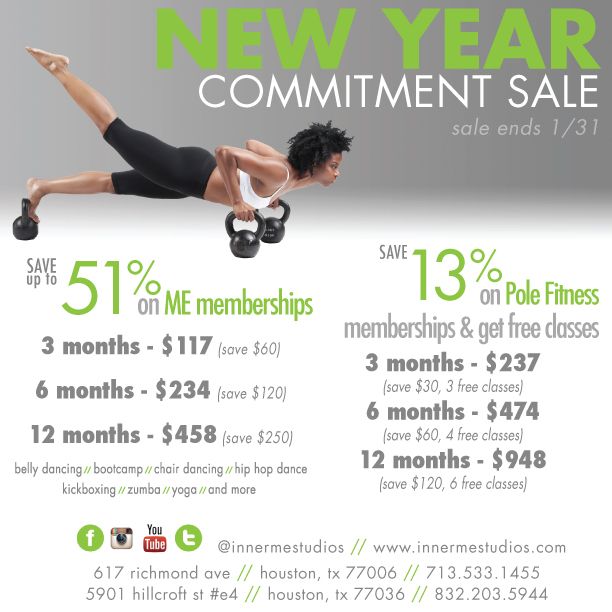 SAVE up to 51% OFF ME MEMBERSHIPS
LOCK IN A RATE OF $39 PER MONTH
3 Months of Unlimited Classes - $117 (save $60)
6 Months of Unlimited Classes - $234 (save $120)
12 Months of Unlimited Classes - $458 (save $250)
SAVE 13% OFF POLE MEMBERSHIPS
15 Classes / 3 month expiration - $237 (3 free classes included)
28 Classes / 6 month expiration -$474 (4 free classes included)
54 Classes / 12 month expiration - $948 (6 free classes included)
SALE FOR ALL CLIENTS, NEW AND RETURNING. Must purchase sale by 1/31. Expirations do not start until you take your first class, not the date of purchase. May not purchase more than one. 
---
About Inner Me Studios
Inner Me Studios is a unique and hip Midtown Houston, TX based group fitness and dance studio for men and women. Inner Me Studios is committed to providing Houston with a hip, fun, calorie burning and body changing fitness experiences that appeal to a range of ages and takes pride in ensuring classes are created with the utmost knowledge of the benefits and muscles themselves. We offer innovative and trendy fitness classes that make exercising exciting and interesting.
Join my circles on G+