Sexy Photo Shoot and Just Brittany Event
Mark the date and mark it twice!! February 9 will be the sexiest day of the year!
---
SEXY PHOTO SHOOT...

is just in time for Valentine's Day or for any reason at all
This is a great opportunity to get a professional photo shoot at a huge discount!!
You will have access to the Pole Studio as well. The only thing you need is your clothing.

SUNDAY, FEBRUARY 9 (Richmond location)
$50 non-refundable deposit to book. Deposit goes toward total balance.
Make-up is included.
Discounts on clothing purchased at EROTIC CABARET.

2 Packages to choose from:
$145 - make-up, 15 minutes shooting time, 1 look, 1 edit, 1 5x7 print, 5 unedits
$195 - make-up, 30 minutes shooting time, 2 looks, 2 edits, 2 5x7 prints, 10 unedits
$25 - all images on a cd.
Book by January 31 and save $10!

To book please call 713.533.1455.
Robert Tremaine Photography / Val Ross Make Up / Quincy Toliver Posing and Client Assistant / Clothing provided by Erotic Cabaret
---
JUST BRITTANY STRIPPER GAME 101 PART 3

SUNDAY, FEBRUARY 9 (Hillcroft location)
5pm - 8pm
3 Dance Workshops - Pole Dancing, Chair Dancing and Stiletto Fit
Cocktails & Bites 

Prices start at $30 per person
Purchase tickets at justbrittany.tv/strippergame/

---
Make a real commitment to your health in 2014 and SAVE! Hurry, sale ends 1/31.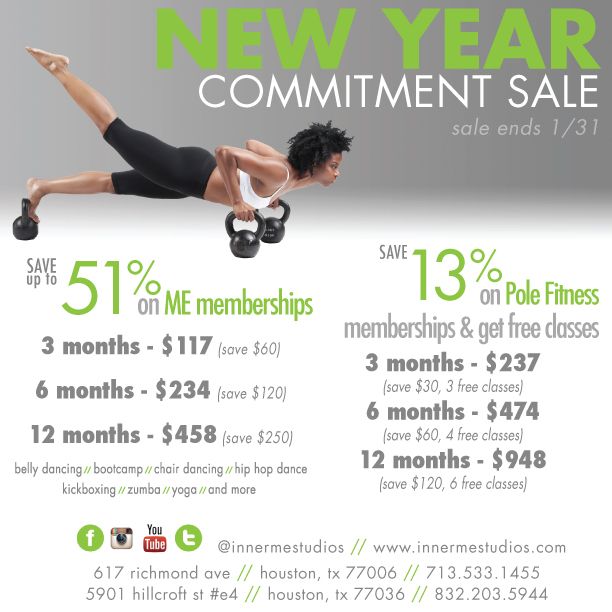 SAVE up to 51% OFF ME MEMBERSHIPS
LOCK IN A RATE OF $39 PER MONTH
3 Months of Unlimited Classes - $117 (save $60)
6 Months of Unlimited Classes - $234 (save $120)
12 Months of Unlimited Classes - $458 (save $250)
SAVE 13% OFF POLE MEMBERSHIPS
15 Classes / 3 month expiration - $237 (3 free classes included)
28 Classes / 6 month expiration -$474 (4 free classes included)
54 Classes / 12 month expiration - $948 (6 free classes included)
SALE FOR ALL CLIENTS, NEW AND RETURNING. Must purchase sale by 1/31. Expirations do not start until you take your first class, not the date of purchase. May not purchase more than one. 
---
About Inner Me Studios
Inner Me Studios is a unique and hip Midtown Houston, TX based group fitness and dance studio for men and women. Inner Me Studios is committed to providing Houston with a hip, fun, calorie burning and body changing fitness experiences that appeal to a range of ages and takes pride in ensuring classes are created with the utmost knowledge of the benefits and muscles themselves. We offer innovative and trendy fitness classes that make exercising exciting and interesting.
Join my circles on G+