It's Showtime and Flex Time
INSTRUCTOR / CLIENT DANCE SHOW - PG2.
DEEP STRETCHING OPEN HOUSE.
---
#PG2 a DANCESHOW

Get a formal introduction to our studio. You are invited to an amazing Dance Show for our instructors and clients!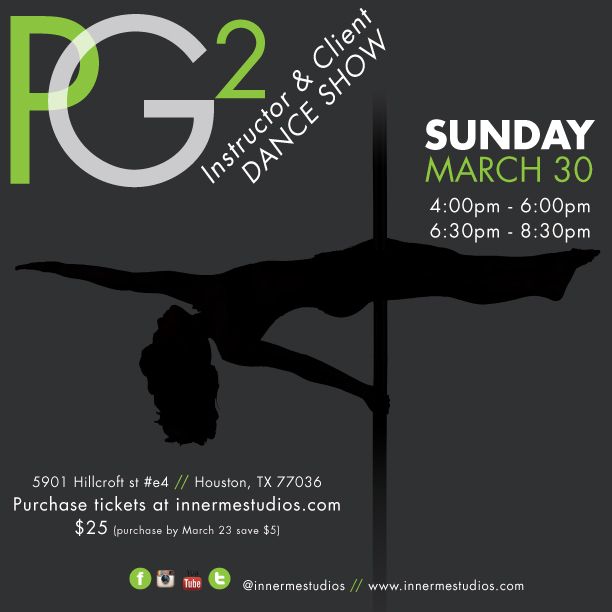 Sunday, March 30
4:00pm - 6:00pm OR 6:30pm - 8:30pm
5901 Hillcroft St #E4, 77036

$20 purchase by March 23 / $25 after March 23 / $30 on day of show

Including: Light bites, drinks, raffle items, and lot of #FunFitness
---
DEEP STRETCHING / CONTORTION
OPEN HOUSE - $10
Saturday 2/22, 10:00am - 11:15am (5901 Hillcroft St)
Tuesday 2/25, 6:45pm - 8:00pm (617 Richmond Ave)

4 WEEK SERIES- $79
Saturdays starting 2/29, 10:00am - 11:15am (5901 Hillcroft St)
Tuesdays starting 3/5, 6:45pm - 8:00pm (617 Richmond Ave)

You can use your 4 classes at either location. If you want to take more than 4 classes during the four week series, each additional class within the series is only $13!
You will be amazed at the benefits of this class and regardless of where your current flexibility level is, you will become more bendy. If your goal is to become more flexible for fitness, balance, or pole dancing, you will love this class! Stretching and good flexibility help to improve coordination, ease back pain (especially in the lower back), enhance blood flow to your muscles (resulting in more energy and less muscle fatigue), and help to provide you with a better quality of life. If done properly, stretching even helps relax both your mind and body. The class will primarily target your back, legs, hip and shoulders.
---
About Inner Me Studios
Inner Me Studios is a unique and hip Midtown Houston, TX based group fitness and dance studio for men and women. Inner Me Studios is committed to providing Houston with a hip, fun, calorie burning and body changing fitness experiences that appeal to a range of ages and takes pride in ensuring classes are created with the utmost knowledge of the benefits and muscles themselves. We offer innovative and trendy fitness classes that make exercising exciting and interesting.
Join my circles on G+